New Mullingar Oil Company, Flaherty Fuel Oils, aims to Cut Heating Costs for Local Families.
Free Draw Winner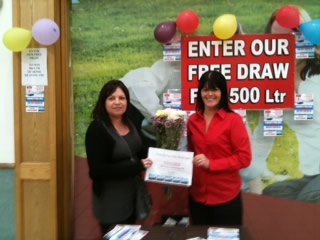 Flaherty Fuel Oils Ltd is pleased to announce the winner of its free draw for 500 litres of home heating oil. Ms Frances Walsh of Woodlands Mullingar picked up her prize on Saturday afternoon in the Mullingar Shopping Centre. The presentation marked an end to a three day marathon event where the company were offering home heating oil at rock bottom prices.
Conor Flaherty, Director said, "We would like to take this opportunity to congratulate Frances and thank everybody who took part in our free draw over this past weekend. We are delighted with the uptake and interest we have received in Mullingar and look forward to developing our business here into the future."
Heating Oil Mullingar
While the company has been in business for over 20 years it has only been in the past Month we have developed into the Mullingar area.
"We pride ourselves in offering high quality oil products at extremely competitive prices. Given the times we find ourselves in, any opportunity for people to save money on household or business expenditure is an advantage. We are confident we can help people achieve this with our competitive price structure," said Conor.
100% Irish
Flaherty Fuels was established in 1989 by Managing Director, Brendan Flaherty. The Company is 100% Irish owned and provides employment for over 20 people. Said to be the largest independent oil distributor in the Midlands, we aim to remain proactive and decisive while maintaining high standards that our customers will remember.
Next Day Delivery & 24 Hour Phone Number
"Our customer service focus is what sets us apart from our competitors. We guarantee next day delivery and have recently launched a 24 hour phone number for those who run out unexpectedly, continued Conor"
Flaherty Fuel Oils specialise in supplying Domestic, Commercial, Agricultural, Marine, and Motor fuels, as well as Lubricants to homes, businesses, factories, farms, and filling stations throughout the Midlands and West of Ireland.
Contact
For further information or to discuss your needs contact 044 9390099